---
Choose additional country / region / language Milwaukee Tool websites
Select Other Site
M18 FUEL™ Pipe Threader w/ ONE-KEY™
Our M18 FUEL™ Pipe Threader w/ One-Key™ is the industry's first cordless pipe threader, revolutionizing the pipe threading process. The cordless pipe threader features AutoStop™ technology that senses severe kickback and automatically shuts the tool off. It also has a die head lock preventing die head ejection and a side handle to eliminate the need for you to hold the spinning die head when starting threads. The portable pipe threader delivers unmatched tool control and functionality and allows you to thread faster than the corded competition. Featuring a multi-speed selector, this powerful pipe threader threads faster than corded competitors, maximizing your productivity without compromising thread quality. The metal pipe threader gives you the power to thread up to 2" black iron pipe, stainless steel, and rigid metal conduit (RMC). The handheld pipe threader is compatible with ONE-KEY™ Technology and is the industry's first pipe threader that wirelessly connects to a smartphone to track the tool's location, manage it in inventory, and lock the tool out for added security and protection to your investment.
Pipe Threader w/ ONE-KEY™
AUTOSTOP™
KICKBACK
CONTROL
THREADS
FASTER
THAN CORDED
AUTOSTOP™ KICKBACK CONTROL
AUTOSTOP™ senses severe kickback and automatically shuts off the tool
SIDE-GRIP THREAD STARTS
Die Head Retention Lock allows for die to lock into the tool before starting thread
Side-Grip allows for no engagement with the spinning die head before or during threading process
THREADS FASTER THAN CORDED
Faster threading allows for unmatched productivity
Multi-Speed Selector optimizes thread quality across pipe sizes
Customize. Track. Manage.

Customize your tool by dialing in performance

Track your tool's location from anywhere
Lock your tool and disable remotely
Manage your assets your way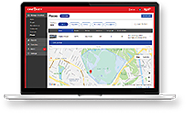 Learn More
PERFORMANCE DRIVENTRADE FOCUSEDSYSTEM WIDE
Auto-Stop™ Kickback Control
AUTOSTOP™ kickback control prevents severe kickback
Compatible with ridgid® 12-R and Reed R12+ die heads
Dedicated Support Arm enables threading without pipe stand
Fits M18™ Batteries
Magnesium enforced carry handle
Multi-Speed Selector optimizes thread quality across pipe sizes
Offset die head for closer threading near pipe bends and against walls.
ONE-KEY™ technology allows for tracking, tool security, and inventory management
Over 25, 2" pipe threads per charge
POWERSTATE™ Brushless Motor provides more power, more run-time, and longer life
REDLINK PLUS™ Electronic Intelligence enables advanced communication between batteries and tools for unmatched performance, protection, and productivity.
Side grip and die head retention lock for no engagement with spinning die head
Side Grip Thread Starts
Threads Faster than Corded
Product Specifications
Tool Warranty
5 Year Limited Warranty
Compatible Machine Type
48-36-1060 Milwaukee 1/2"-2" HIGH SPEED NPT Portable Pipe Threading Forged Aluminum Die Head Kit; Milwaukee NPT Portable Pipe Threading Forged Aluminum Die Heads; Milwaukee NPT Portable Pipe Threading Dies