---
Choose additional country / region / language Milwaukee Tool websites
Select Other Site
M18 FUEL™ with ONE-KEY™ 1/2" Drill/Driver (Tool Only)
The M18 FUEL™ Drill/Driver features a POWERSTATE™ Brushless Motor that delivers 1,200 in-lbs of peak torque and up to 2,000 RPM, providing faster drilling speed under heavy load to increase productivity. At only 7.20" in length, it is the Most Compact drill in its class, reducing fatigue when used for extended periods of time and allowing access to tight work spaces. REDLINK PLUS™ intelligence ensures maximum performance and protection from overload, overheating and over-discharge. REDLITHIUM battery packs deliver more work per charge and more work over the life of the pack than the competitors. Compatible with ONE-KEY™, this is the industry's first Drill/Driver that wirelessly connects to a smart phone to Customize, Track and Manage a tool's performance and location. Unlimited Tool Customization allows you to connect to the tool and access predetermined set-ups for specific fasteners and materials, or have complete control over output speed and power for the specific application at hand. Once the desired output performance is reached, the custom profile is then saved to the memory of the tool and the connection to the smart phone is no longer necessary. The tool's memory supports up to 4 custom profiles that can be easily accessed with the touch of a button on the tool. Your custom profiles are also saved in the cloud so that they can be accessed at any time. Integrated Tool Tracking, also available through ONE-KEY™, provides full visibility to how and where tools are being used across your network of jobs and users. The app will track all ONE-KEY™ compatible devices within 100 ft range of your phone. By building the functionality into the tool, not the battery, all devices are trackable even if the battery is not charged or on the tool. The app will automatically keep records of the last time a tool was within range of the app, allowing you to pinpoint missing tools quicker and increase accountability of your crew. If you're having trouble locating a lost tool, expand your search with the help of anybody with the ONE-KEY™ app. By opting in, when any phone with the app comes within 100 ft of your tool, you will receive an updated location.
This product is no longer available. Feel free to contact us for suggestions of other products that may fit your needs. Contact Us
Customize. Track. Manage.

Customize your tool by dialing in performance

Track your tool's location from anywhere
Lock your tool and disable remotely
Manage your assets your way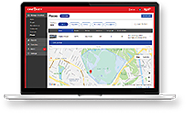 Learn More