The Next Breakthrough
Is Here
We're excited to announce the next breakthrough in M18 FUEL
™
. These new solutions are a testament to our dedication of delivering productivity-enhancing solutions that provide the right blend of power, run-time and performance. True to all M18 FUEL™ solutions, each of these tools combine three exclusive innovations – the POWERSTATE
™
brushless motor, REDLITHIUM
™
battery pack, and REDLINK PLUS
™
intelligence - all specifically re-designed to reach a new level of power and performance never seen on an 18V platform.
All M18 FUEL
™
tools are part of the M18™ system of over 150 performance driven, trade focused solutions.
M18 FUEL™ 7-1/4" Circular Saw
M18 FUEL™ SUPER SAWZALL®
M18 FUEL™ 8-1/4" Table Saw w/ONE-KEY™
M18 FUEL™ 7" / 9" Large Angle Driver
M18 FUEL™16" Chainsaw
M18 FUEL™ 1/2" Hammer Drill
M18 FUEL™ 1/2" Drill Driver
M18 FUEL™ 1/4" Hex Impact Driver
INTRODUCING REDLITHIUM™ HIGH OUTPUT™ BATTERY PACKS – THE NEXT BREAKTHROUGH IN LITHIUM-ION
The M18™ REDLITHIUM™ HIGH OUTPUT™ HD12.0 Battery Pack provides 50% more power and runs 50% cooler vs M18™ REDLITHIUM™ HD9.0 battery packs, allowing tradesmen to push their cordless tools harder and longer than ever before. The massive increase in power elevates the performance of the entire M18™ system and drives the next breakthrough in M18 FUEL™, delivering the power of 15A corded product. The REDLITHIUM™ HIGH OUTPUT™ HD12.0 battery is fully compatible with 150+ M18™ solutions.*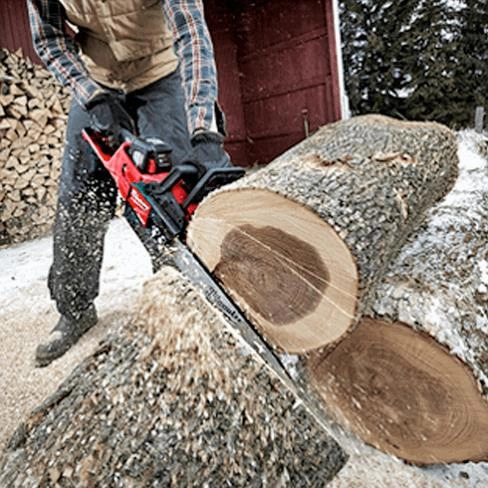 50% More
Power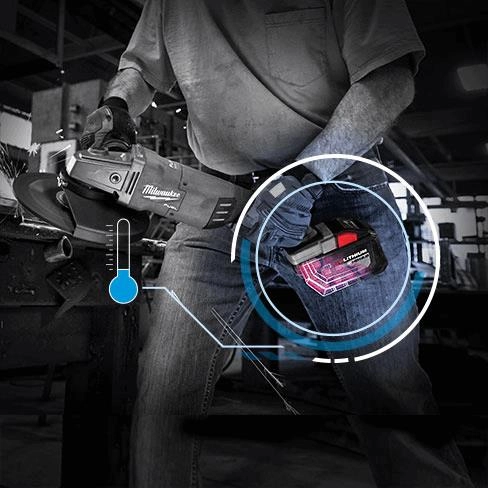 Runs
50% Cooler
M18 FUEL™ is engineered for the most demanding tradesmen in the world. Delivering unrivaled performance in a compact structure, all M18 FUEL™ products feature three Milwaukee®-exclusive innovations—The POWERSTATE™ Brushless Motor, REDLITHIUM™ Battery Pack and REDLINK PLUS™ Intelligence Hardware and Software—that deliver unmatched power, run-time and durability on the jobsite. Simply put, M18 FUEL™ tools are the most powerful 18v cordless tools in their class.
Click a Number for Details
Drilling
From compact right angle drills that provide access in tight access, to 1/2" drills that provide best-in-class power and durability, to high-powered drills for large diameter drilling and rough-in work, M18 FUEL™ drilling solutions cover the full range of drilling needs.
Fastening
Milwaukee is the industry leader in cordless fastening. By replacing pneumatic and corded tools, M18 FUEL™ fastening solutions cover the full range of fastening needs - providing unmatched power, runtime and durability - all while being the most compact in their class.
Concrete Solutions
M18 FUEL™ rotary hammers deliver faster than corded speed, durability and all-day runtime. Milwaukee offers a complete line of cordless rotary hammer solutions, ranging from compact SDS Plus to SDS Max.
Nailers
M18 FUEL™ Nailers deliver on the promise of peak productivity at your worksite, providing unmatched driving power, speed and efficiency - with practically no set up and minimal maintenance - creating the experience of a pnuematic nailer that professional carpenters and remodelers expect, without the hassle of compressors of hoses.
Cutting
From circular saws to band saws, M18 FUEL™ offers a full range of cutting solutions designed to outperform their corded counterparts - providing the power, runtime and durability to withstand the harsh conditions out on the jobsite.
Grinding
M18 FUEL™ grinders supply maximum sustained power to complete the toughest grinding, surface prep and cutting applications.
Outdoor Power Equipment
We work with landscape maintenance professionals to understand their requirements for performance, durability, and ergonomics, developing outdoor power equipment solutions that have the power to outperform competitive 18V, higher voltage and gas-powered solutions.
Specialty
Milwaukee® is committed to providing unique, game changing solutions for their users - like the world's first cordless mud mixer, full-size cordless polisher, and drain cleaning solutions. All of these specialty tools are designed with the user in mind, increasing productivity by eliminating the needs for cords or hoses.

Filter
1
System
150

+
Tools
m18 redlithium batteries are compatible with m18 tools
Milwaukee® is committed to improving productivity by providing performance-driven and trade-focused solutions so users can perform an entire day's work on one battery system. The M18 System includes 150+ tools, and is a true testament to Milwaukee's focus on investing in technology to deliver breakthrough solutions for our users.
*Due to the physical size increase of the M18™ REDLITHIUM™ HIGH OUTPUT™ HD12.0, it does not fit the following tools prior to a 6/1/2018 manufacturing date without applicable service part: 2787-20, 2788-20, 2771-20, 2122-20, 2130-20, 2135-20, 2361-20, 2145-20, 2146-20, 2360-20. Milwaukee is committed to protecting end user's investments, offering FREE service upgrades for the listed products to any customer that purchases a HIGH OUTPUT™ HD12.0 battery pack ( starting summer 2018 you will be able to visit e-Service to request your service part).