---
Choose additional country / region / language Milwaukee Tool websites
Select Other Site
M18 FUEL™ Sewer Sectional Machine w/ CABLE-DRIVE™ Kit
Our M18 FUEL™ Sewer Sectional Machine with CABLE DRIVE™ Automatic Feed and Retract is the first cordless sectional machine to clear the toughest blockages in 2" to 8" sewer lateral lines. The POWERSTATE™ Brushless Motor and REDLINK PLUS™ Intelligence delivers you the power to clear roots up to 200 ft out, providing full power at the maximum capacity of the machine. The sewer cable machine features CABLE DRIVE™, a first-of-its-kind automatic feed-and-retract system. This reduces your fatigue by eliminating the need to manually pull back the heavy cable from the pipes. The M18™ REDLITHIUM™ High Output™ HD12.0 Battery Pack powers through multiple jobs on a single charge, delivering the easiest setup and transportation, increased safety and providing power anywhere without the use of extension cords. The sewer sectional is compatible with ONE-KEY™. Integrated Tool Security provides the ultimate theft protection with features like tool lock-out, allow you to protect your investments. If your machine is lost or stolen, you can render it inoperable by sending a remote command to the machine to shut itself off the next time it comes within range of any ONE-KEY™ app. In addition to the sewer sectional machine, this kit includes two M18™ REDLITHIUM™ High Output™ HD12.0 batteries and an M18™ & M12™ Rapid Charger.
Sewer Sectional Machine
W/ Cable Drive™
POWER
TO CLEAR
ROOTS AT 200'
Cable Drive™
Automatic
Feed & Retract
Easiest
Set-UP
& Transport
POWER TO CLEAR ROOTS AT 200'
Designed to clear tough clogs in 2"-8" pipes
Provides full power out to the max distance
CABLE DRIVE™ AUTOMATIC FEED & RETRACT
Reduces fatigue by eliminating the need to manually pull back cable from the pipe
EASIEST SET-UP & TRANSPORT
M18™ REDLITHIUM™ Battery Pack provides instant set-up
Telescoping handle and wheels allow for easy transportation
Enclosed cable containers contain the mess of used cables
PORTABLE PRODUCTIVITYTRADE FOCUSEDSYSTEM WIDE
Customize. Track. Manage.

Customize your tool by dialing in performance

Track your tool's location from anywhere
Lock your tool and disable remotely
Manage your assets your way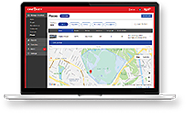 Learn More
Battery Specifications
Battery Type
18 Volt Lithium Ion
Product Specifications
Tool Warranty
5 Year (Tool), 3 Years (Battery)
Max Drain Line Capacity
200'
Cables Available
7/8" All Purpose Open Wind Sectional Cable, 1-1/4" All Purpose Open Wind Sectional Cable, 1-1/4" Heavy Duty Open Wind Sectional Cable
Warranty
5 Year Tool / 3 Year Battery / 2 year Cable
Drain Line Capacity
2 - 8"
Cable Capacity
7/8" & 1-1/4"
Feed Type
Manual or Automatic
Recommended Pipe Size
2" up to 8"